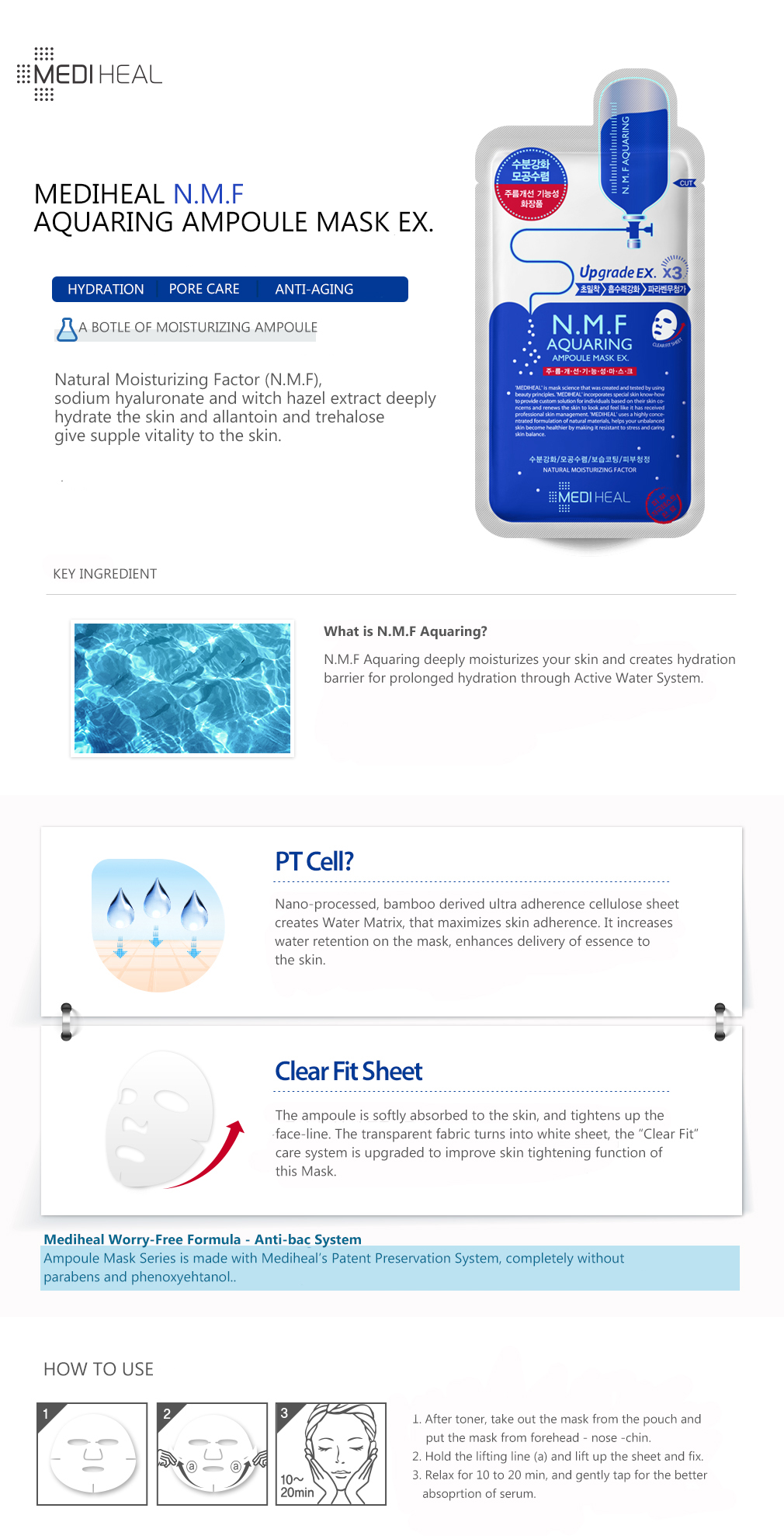 Product Feature:
Water system of N.M.F (Natural Moisture Factor) helps provide & pumps abundance of moisture to your skin, instantly moisturized.
Solve dry skin problems, contains hyaluronic acid & ceramide that have excellent power of locking water inside the skin, 3 times more effective than average products. It contains "Natural Moisturizing Factor (N.M.F) system, a variety of moisture ingredients that have outstanding moisturizing results such as LS8865 & witch hazel. It tightens loosen pores, regulates sebum as well as provide abundance moisture. Long-term use can solve any allergies caused by dry-skin.
Face masks are an easy and effective way to make your skin healthier and better looking while getting a good relaxation out of it at the same time. Face masks are no hassle forms of facial that will leave you feeling rejuvenated and like a new person each time after finishing a mask.
Moisturises Skin
The NMF in the N.M.F Aquaring Ampoule Mask stands for Natural Moisture Factor - which helps provide abundant moisture to your skin and keeps it moisturised.
The thirst of your dry skin is resolved through active water systems such as the hyaluronic acid, ceramide - that excels when it comes to the Natural Moisturizing Factor (N.M.F) - as well as the moisturizing effect of LS 886 and witch hazel, which have the effect of tightening loosened pores by adjusting the sebum and the pores.
Effect:
Moisturizing
Size:
25ml (1pc)
Direction:
Before applying the mask, first begin by cleansing your skin thoroughly with clear water.
After cleansing, prepare your skin with a toner and take the mask out of its package.
Then proceed to remove the film and place one of the sheet on the upper face and the other sheet on the lower face.
Rest for 20 to 30 minutes while enjoying the cooling effect and remove the sheets off once it's time.
Caution:
Do not apply on a scar or any area of skin irritation, such as dermatitis and eczema.
If the following symptoms appear after using the product, stop using it. If the symptoms worsen, consult a dermatologist.

Red blotches, swellings, itchiness or irritation while using the product.
If the above symptoms appear when the skin is exposed to direct sunlight after using the product.

Cautions about handling and storing the product

Keep the product closed after using it.
Keep the product out of the reach of children/babies. If they swallow it, consult a doctor immediately.
Avoid extreme temperatures and direct sunlight.
Gentle Reminders:
Taking into account the skin turnover period of 4 weeks, it is most effective to use the N.M.F Aquaring Ampoule Mask continuously twice a week for 4 weeks.
The N.M.F Aquaring Ampoule Mask should be part of your one month concentrated skin management programme.
Ingredients:
Hyaluronic Acid, Ceramide, Fomes Officinalis (Mushroom) Extract (Laricyl® LS8865 Pore Tightening Agent), Witch Hazel, Prunus Amygdalus Dulcis (Sweet Almond) Seed Extract, Rosa Damascena Flower Water, Trehalose, Adenosine
Cut-off Time
All orders placed before 12.00 noon time on a UK working day will be released the same day.

UK Delivery Fee
Purchase of £50.00 or above: free delivery with DPD Next Day service
Purchase less than £50.00: delivery fee £5.00 with Royal Mail 24 service
Republic of Ireland (DPD or Royal Mail)
Purchase of £100.00 or above: free delivery
Purchase less than £100.00: delivery fee £15.00
Other European countries (UPS or Royal Mail)
Purchase of £150.00 or above: free delivery
Purchase less than £150.00: delivery fee £18.00
How to change my delivery address?
Simply write to maskqueen.co.uk@gmail.com with your Order Number and new address, and we will correct it for you. But we cannot change the address if the parcel has already been shipped.